"Honey do you honestly think I would check thousands of tiny little lights if I didn't make sure the extension cord was plugged in."
- Clark Griswold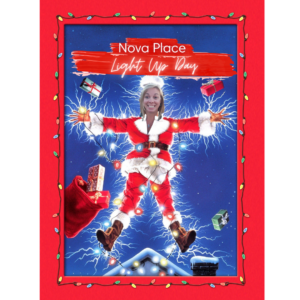 Oh, the holidays aren't just a season, it is a frame of mind.
Join us in the Nova Place main concourse area starting at approximately 11:30 am on Thursday, November 18th for a Holly Jolly time!
There will be holiday decorations, lights, trees, and cheer!
We are kicking off the season with our Inaugural Light Up Day event, and Faros Property Management will be filling the air with merry tunes in the essence of the holiday season.
The official lighting of the tree will be at noon.
Can I get a Watt Watt!?!
This event will be in conjunction with the beginning of the annual Gingerbread-House Making Competition!
You will be able to pick up your free starter gingerbread house-making kit at the event.
There are twenty free starter kits available on a first-come, first-serve basis. You are not required to use the starter kits. You may also use additional materials not included in the starter kit, but we do ask that all materials used in your creation be edible.
Individual tenants can sign out a gingerbread house for a team or themselves, or teams may sign-up together.
If you can't make it to the event and still want to participate in the gingerbread house competition, please visit the Alloy 26 check-in desk located in the Concourse and speak with Jenna to sign up and see if any kits are available and to sign-up your team.
Winners will be chosen at the annual Tenant Holiday Appreciation Event on December 14th.
To further celebrate the spirit of the holidays, we will have "Holiday Spirit Week" with themed days to coincide with the week of The Annual Tenant Holiday Appreciation Event!
Monday, December 13th will be Holiday Scarf and Sock Day
Tuesday, December 14th will also be Ugly Sweater/Holiday Sweater Day
Wednesday, December 15th will be Winter Wonderland Whiteout
Thursday, December 16th will be Holiday Flare and Headwear Day
We hope you join us in the spirit of the season!
Feel free to tag us in pictures of your office fun! @NovaPlace on Instagram and Facebook. We would love to see your Holiday Spirit Week experiences!